The puppies are growing and thriving and are now almost 8 weeks old. Every day I see changes. The rascals are getting wilder and wilder, especially after eating their batteries are fully re charged! Mama Chambala, who had little interest in the puppies for a while, now goes into the puppy run several times a day to have fun and educate her children. She's a really great mom! We were particularly happy about the visit from Alexandra Blaumann, who came all the way from Germany to see Chambala's and Hummer's puppies and us. They were 3 wonderful, intense days that gave me new strength and will remain in my memory forever! THANK YOU, dear Alex!!!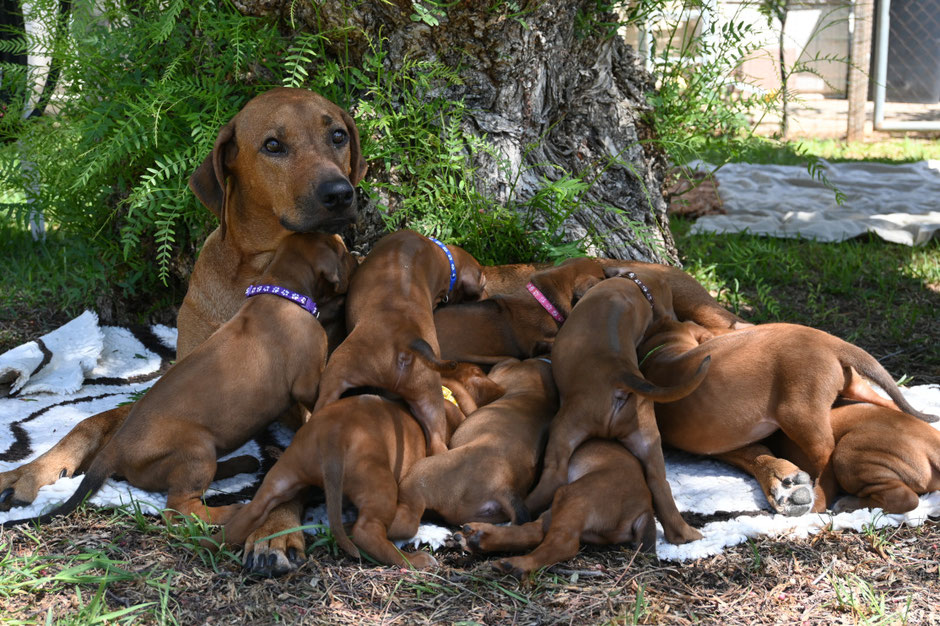 Our wild 13 puppies have started exploring their play pen outside in the garden. They love being there and taking on curiously the new smells and sounds, they enjoy the sunshine and being out and about in the fresh air. Whenever we can we spend time with them to provide them with cuddles and meals. Chambala is now not as keen on them as their little needle sharp teeth hurt her when they suckle. Here are some impressions of our D-litter babies:
It's been quiet around us lately as the last week has been filled with concern for Miss Rose (white). It started with vomiting and diarrhea followed by a first visit to the vet. Rose was very weak, wouldn't drink anymore, was apathetic - I thought we were going to lose her and I was completely off track. Luckily, she was better the next morning, she was drinking again, the antibiotics seemed to be working - no more vomiting or diarrhea! The little fighter slowly got herself together and came back to life. She was alert again, played with her siblings and made some progress. I put her on at Chambala to drink milk whenever I could - she is a great mom and cleans and cares for Rose. I've been sleeping on the couch next to the puppy run since the puppies were born, with Rose right next to me. The nights became quieter again and things seemed to be falling back into place. However, Rose's condition worsened again from Friday to Saturday night - this time with a dry cough and a yellowish runny nose. So Saturday morning we were off to the vet again and we decided to extend the antibiotic treatment. This seemed to be working - the cough was completely gone, but Rose was still sniffling a little. Yesterday - first time outside - all puppies were very impressed and enjoyed the sun and the garden. Rose was very exploratory and completely intrepid. She played, ate well - obviously had fun. Then this morning a new shock - Rose is tired again and doesn't drink anymore. The cold is still there - no more sneezing, but greenish mucus sticking up in her nostrils. So off to the vet again, who gave her a long-term antibiotic. Since this afternoon there has been a turn for the better: Rose is drinking again, she is playing and is alert. By the way, all the other puppies are doing great - they are strong and lively and are developing splendidly. New photos are long overdue and will follow very soon! Please bear with me... When you have a problem puppy, everything else becomes secondary. I really hope that Rose is now over the worst and that we can look forward again! The next two weeks will tell. She is such a beautiful, lovely and funny little girl. Please get well soon, little Rose!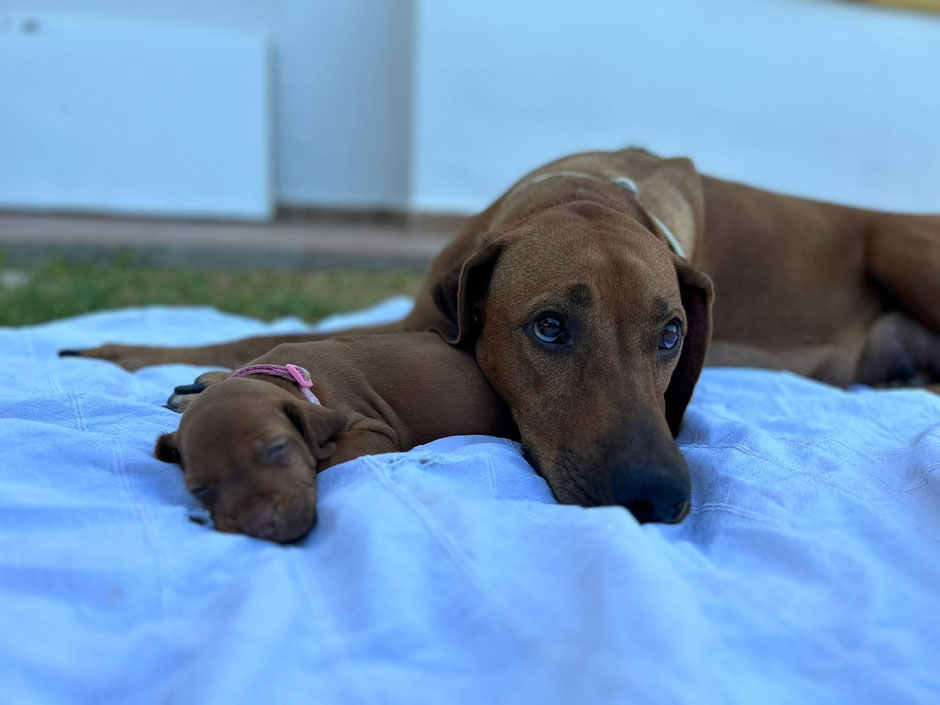 The puppies are growing, are gaining weight and are getting more active. Soon this will be too small for everyone...
Chambala's and Hummer's 13 puppies are already 2 weeks old. You can literally watch them grow and their little eyes have now opened. The blue eyes of the Livernose puppies never cease to amaze me before eventually turning amber over time. Here are the new individual portraits of the puppies:
Meanwhile the puppies of Chambala and Hummer (Manayakaya Chambala x Int. CH. Multi. CH. Red Hot Line X-Factor Hummer) are 10 days old. They drink, sleep, grow and thrive magnificently. This morning they had their first pedicure - 234 small claws were trimmed and are no longer needle-sharp, which makes suckling for Chambala much more relaxed. Tanya made this fantastic video about the development of the puppies during their first week of life. Thank you, Tanya, I appreciate your involvement with this amazing litter! I am very happy that we keep in touch on a daily basis and that we can share the joy of our beautiful offspring!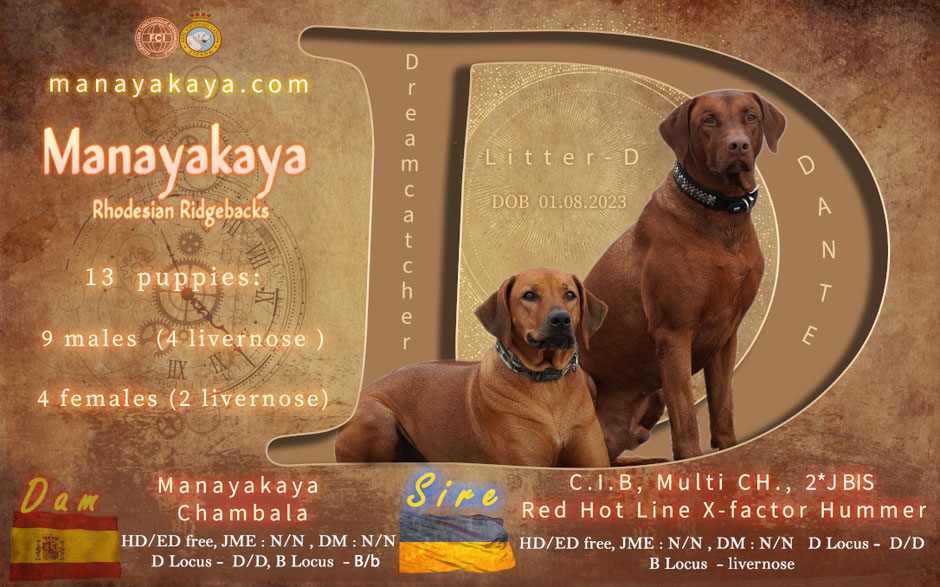 Thank you, dear Tanya, for this wonderful presentation of our Dreamcatcher litter! 
A BIG kiss to daddy Hummer, who must be very proud of his amazing babies here in Spain!
After we've all recovered a little from the strains of whelping, something like a routine slowly develops. Chambala is doing a fabulous job as a new mum, and the little Dreamcatchers drink, sleep, grow and thrive. On average, each puppy has gained 200g of body weight. Every time I look into the whelping box I am so happy about these 13 little miracles and I am very proud of Chambala!

Meanwhile, all of the puppies got small coloured collars. I can tell them all apart, but the colours make it a lot easier whith a full whelping box.

Today was the first individual photo shoot! Manayakaya proudly presents...

The Dreamcatchers:
Mr. Orange (livernose, male)
Mr. Celestial (black-nosed, male)
Miss White (livernose, female)
Miss Pink (black-nosed, female)
Mr. Brown (black-nosed, male)
Mr. Silver (black-nosed, male)
Miss Purple (black-nosed, female)
Mr. Black (black-nosed, male)
Mr. Red (black-nosed, male)
Mr. Yellow (livernose, male)
Mr. Blue (livernose, male)
Mr. Green (livernose, male)
Miss Mint (livernose, female)
In the night from July 31st to August 1st, Chambala gave birth to 13 beautiful puppies
(15 in total, but sadly, 2 little angels didn't make it...).

We are happy about 9 males (4 livernose) and 4 females (2 livernose), all have a ridge and there is very little white.

We are overjoyed and so proud of Chambala, who mastered the long, strenuous birth so incredibly bravely and confidently. She takes her new role as a mother very seriously with a lot of love and dedication. Chambala and her puppies are healthy and doing well!

With this litter a dream has come true!!
Not only because of this litter shall be named DREAMCATCHER, but specifically in honor of Dante, Chambala's unique father, without whom Chambala would not exist and never have come into my life.

I say THANK YOU, dear Alex, simply and most of all for everything!!
Now it's time for all of us to catch up on sleep, rest and enjoy! More news and pictures shortly...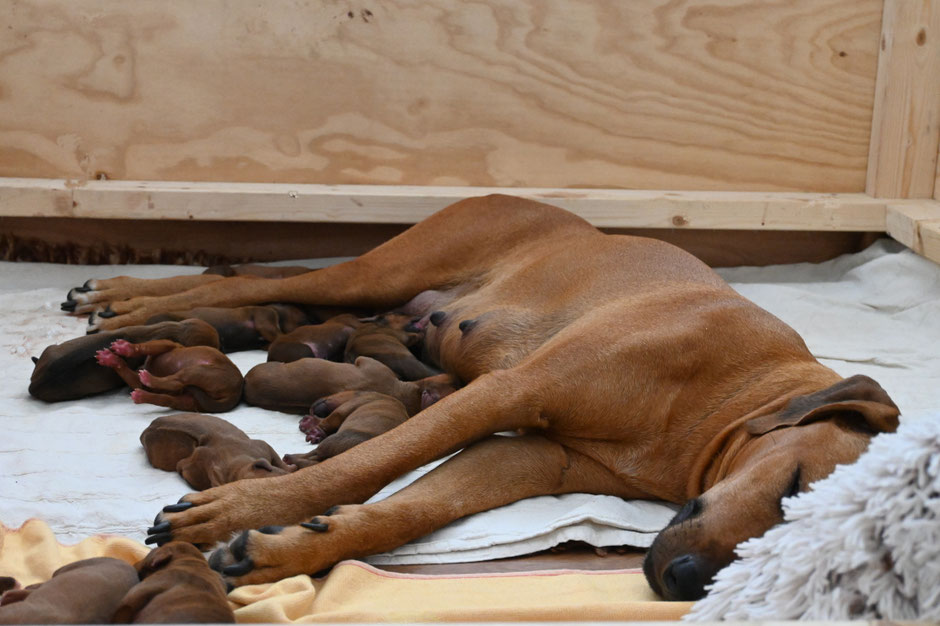 Updated information about the D-litter with new pictures of our future daddy-to-be, Hummer. I am also particularly happy about this fantastic illustrated pedigree that Hummers' breeder and owner, Tanya, has created!
At this point a big THANK YOU, dear Tanya!
 
To escape the heat, we are out and about in the pine forests every morning shortly after sunrise. It is vital for Chambala to stay fit, although now she would rather rest on the cool tiled floor at home! Our morning walks are now a little shorter, slower and more leisurely. However, when Chambala senses something, she suddenly forgets her baby bump and can be as fast as lightning!

Here are some impressions of our mom-to-be, Chambala, from this morning, the 51st day of pregnancy: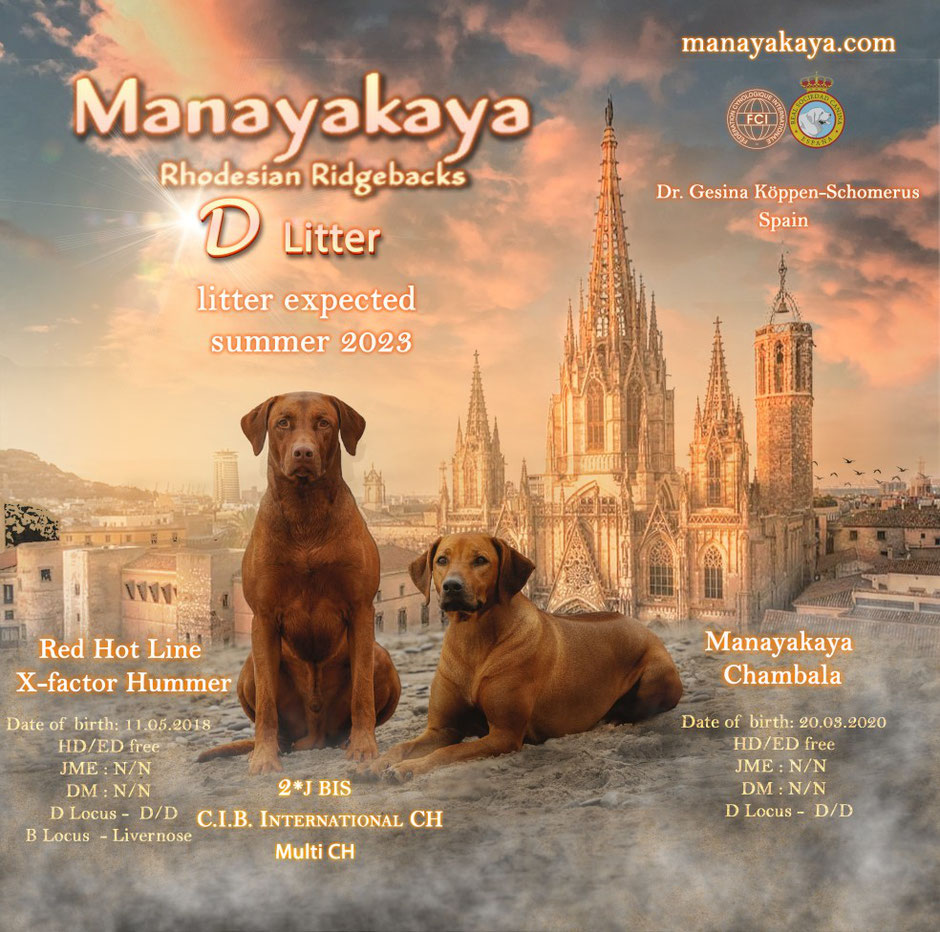 Many thanks, dear Tanya, for Hummer as the father of our D-litter and for your trust in us!
A big THANK YOU also for this lovingly designed litter announcement created by you!
At the end of last year I came across a photo of a Rhodesian Ridgeback male on the internet. What I saw there grabbed me and made my heart beat faster: A beautiful, charismatic, substantial livernose male from Ukrainian breeding! I started researching and wanted to know more about this impressive dog, so I contacted his owner, Tanya. In the course of our writings it turned out that Tanya had left Ukraine with her family and dogs after the start of the war and had actually been living in Spain for several months! This seemed like a sign of fate and from now on it wouldn't let me go. Finally, we arranged a first meeting and I was allowed to experience Hummer live and in the flesh, and what can I say - Hummer is just awesome!
Chambala and Hummer got along right away and we spent an unforgettable afternoon together. During a long walk and many conversations we made new friends

This meeting and the months that followed paved the way for the start of our D-litter 2023 adventure
 
Hummer is a strong boned and impressive representative of its breed. He has shown this by winning several awards and is also a multi-, as well as international champion. Hummer is healthy, active and very athletic. He is always on the move, loves ball games and is a great swimmer (water is his element!). His temperament is absolutely typical of the breed - balanced, relaxed, confident in dealing with other dogs. He loves children and is very family oriented. In his pedigree there are some representatives of the breed that I really appreciate and admire, but whose occurrences in European pedigrees have meanwhile become rather rare. In addition, Hummer's ancestors go back to my foundation bitch Heshima ya Kimba Fayola Kianga (in memoriam) - his great-grandfather is Heshima ya Kimba Grand Aquarius, who was a half brother of my Kianga. That's why this present D-litter, which goes back to very the beginnings of my kennel and breeding, is so very special to me.